This February, Metalwerx took our first ever group trip to Tucson. We were joined by board members, studiomates, students and friends for a three-day trip into the desert to attend one of the largest gems shows in the world: the Tucson Gem Show.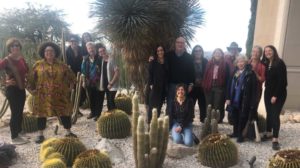 Composed of nearly fifty smaller shows scattered around Tucson, the Tucson Gem Show is one of the three largest gem shows in the world. Started in the mid 1950's, the show has grown in acclaim and attendance through the years. It grosses over $120 million dollars annually, attracts over 40,000 attendees and includes over 4,000 vendors!
Barely making our connecting flight, our group made it to Tucson along with all of our luggage! We didn't waste any time when we first arrived. After checking in at the hotel, we headed straight to the AGTA GemFair at the convention center. This show is at the heart of the entire gem show and is one of the most prestigious. The AGTA GemFair has the highest disclosure standards for their vendors, ensuring color and quality of their products with full transparency. While there, we caught up with some of our favorite Marketplace vendors like Alexander's Jewelers, Azurz, and Rare Earth Mining! We met interesting new vendors like The Clam Shell, Dufty Weis Opals and Taj Company and saw and incredible array of stones, pearls, beads and large mineral specimens.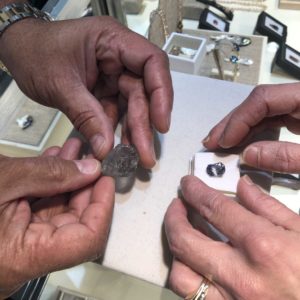 Our walk through the GemFair was brief before heading across the street to the El Minuto Café where we had our first group dinner and were joined by the Heher Family of Rare Earth Mining. Curt, Cynthia and Bill Heher graced us with their presence and told some remarkable stories about their travels around the world in search of new and exciting stones.
During dinner, Bill was asked if there were any interesting stones coming into the market. His response: Tugtepite! He then told us how he travelled to Greenland to source new stones and materials. He was told about a mine owner in a nearby village who had found the stone in his mine. Networking until he connected with the miner, Bill ended up buying up all the Tugtepite that was available! The stone's name is Inuit for "reindeer blood." When it is extracted from the mine, it is a pale pink color. Once exposed to sunlight, it turns bright red and stays this way for a few months. It is said that the length of time that the stone remains red is representative of how strong your love is for the person you give the stone to.
On our first full day, we met up with one of our favorite Metalwerx instructors, Paulette Werger, at the AGTA GemFair. Paulette gave us information about business practices for buying stones and working with members of the industry. She also gave us tips on asking the right questions about stone treatments and provenance, and about building relationships with vendors for long term success.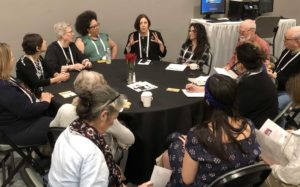 After a few hours, we headed to the Pueblo show, just a short walk from the convention center where Paulette introduced us to some of her vendors that she has been working with throughout her 35-year career. Our good friend Bill Fretz of Fretz hammers gave us a demo on his new tool: the spinner ring jig!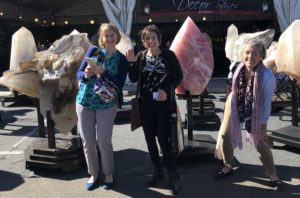 A busy day of shopping and visual overload can make you want to sit down and enjoy a cocktail. We headed to the Congress Hotel, a landmark of Tucson's downtown and rumored to be haunted, to grab a drink and share our stories and treasures from the day. We toasted to a successful day of shopping and to thank Paulette for her wonderful guidance!
The second day was just as packed as the first, starting with brief talk at our hotel with Michael Boyd, a Metalwerx instructor, talented jeweler and lapidary artist. Michael gave us an in-depth look at buying rough rock and slab and explained how he visualizes a piece from rough to finish. Michael took us to GJX (Gem and Jewelry Exchange), a largely international show right across the street from AGTA GemFair. Among the vendors at GJX, we stopped into the Idar-Oberstein tent that showcases exquisitely cut gems from Germany. Lindsay met the Munsteiner family, famous for their exquisitely cut "Munsteiner" gems.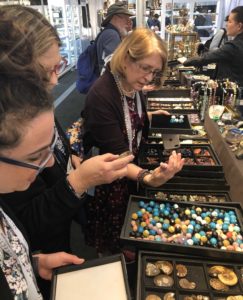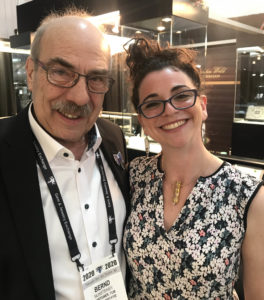 After lunch, part of our group then headed to the Kino Sports Complex, a show known for its market of rough stone. The trip wouldn't be complete without sitting in giant geodes!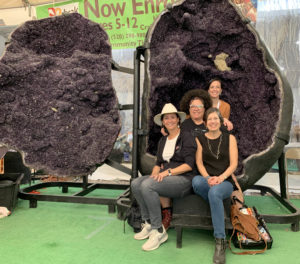 The other part of our group took a drive out to the To Bead True Blue show in the Casino Del Sol. This show included vendors with finished jewelry, tools, and beads. We met up with David Aizenman from Pepetools, Curt Fargo from Mirco-Tools and Melissa Muir. We even met a new vendor friend, Cody Rutland of Buffalo Rutland, who makes stamps and patterned plates for the rolling mill.
Around 5:30pm, our dogs were barking and our wallets were lighter so our group met up at a local restaurant for our final dinner together. Having moments to sit and connect with such wonderful people is what truly made this trip special. Everyone in our group had an interesting perspective about their Tucson experience and what treasures they found!
The next day, just before leaving Tucson, we stopped in for a quick jaunt through the African Art Village show. We had only an hour to walk through the rows of vendors who were selling piles of beads, giant baskets, patterned textiles, tools and miscellaneous items. So much color! Thankfully for our wallets, our bags were packed and pretty full, so we didn't have much room for new treasures!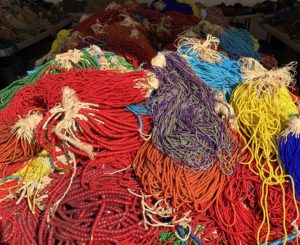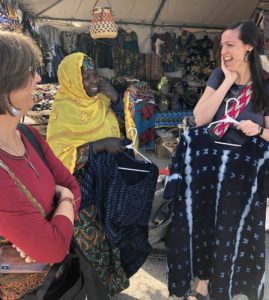 Despite a flat tire, we made it to the airport on time to head home. It was incredible to share this experience with Metalwerx friends and peers. Having trusted instructors guide us through the busy aisles of the show and to help us avoid buyer's remorse by making educated purchases! This trip gave us the opportunity to build stronger connections with our Metalwerx community members and to make new connections. Hopefully next year, we can organize a similar trip! We only scratched the surface of what the Tucson Gem Show has to offer!
Latest posts by Metalwerx (see all)