We understand that these times are uncertain. It has been a trying few weeks amid the COVID-19 crisis and we want you to know that Metalwerx is here for you in any capacity. We also want to ensure the safety and health of our staff, studiomates, and students.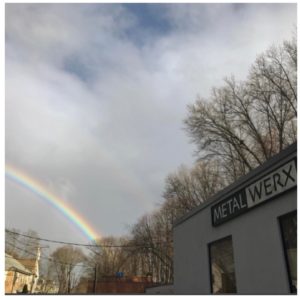 Metalwerx is working hard to define policies and procedures to keep everyone healthy.  The COVID-19 situation is evolving quickly, and we are doing everything we can to ensure your safety and do the right thing for our community. Our director, board of directors, and staff members are closely monitoring the news and following all recommendations set by the board of health.
Metalwerx's current plans are listed below. As the situation changes, we will respond accordingly and keep our community informed.
Winter Weekly Classes: We are between semesters when it comes to weekly classes. Any make-up classes scheduled for next week will not be held. We understand many families are dealing with public school closures and we do not need to hold make-up classes that make anyone's schedules difficult. We plan to figure out a time to hold make-up days for students to finish projects when things settle down. Students will receive credit for the time they have missed.
Open Studio Time: There will be no open studio time offered in the next two weeks. We are trying to keep foot traffic to a minimum for the time being.
Events: All events this month are canceled. The Making Moves call for artwork has been extended to May 1st. The exhibition will now be hosted by Monique Rancourt Artisan Gallery and will be on view June 19th-July 19th. The opening reception for Making Moves will be on June 19th from 5:30-8:30pm. If you have any questions or concerns, please reach out to our Events Manager, Liz Clark at liz@metalwerx.com
Upcoming workshops are being considered on a case by case basis. We have cancelled all of our March workshops as well as workshops the first two weekends in April. You will hear from us directly if you are enrolled in a workshop taking place in April to receive updates. Our classes and workshops are small and there are never many people in the building at the same time. Because we can limit the size of our classes, at this point in time, we are planning run them while practicing social distancing and following our updated disinfecting policies.
Spring weekly classes have been postponed, to start April 6-9. At this point in time, we anticipate that we will be able to offer upcoming weekly classes as planned, with a one-week delay. This could change, and we will keep everyone informed of any delays or changes to the schedule. Your safety is our priority.
We are thinking of you and doing everything we can to maintain operations and a sense of normalcy during this pandemic. Things may change as this situation progresses and we will keep our community informed of any changes we make to the plans we have listed above. We want to encourage you to reach out to us with any questions you may have. Our office will remain open Monday-Saturday in the coming weeks. Please feel free to email info@metalwerx.com or call 781-891-3854.
If you have any symptoms of Coronavirus, or have come in contact with someone who has Coronavirus, please do not attend any scheduled classes or workshops. We ask that you call our office to let us know about your absence. Credits will be issued, on a case-by-case basis, which may be used towards another class or workshop by the end of 2021.
Metalwerx has always been a place for learning, connection and enrichment. We have a supportive and caring community of artists and learners. Please know that we are here to encourage you and help grow your skills, all at a safe distance during this time. Below are some resources that may offer inspiration, reflection and focus on your practice.
Craft and jewelry related podcasts: Perceived Value, Wellness for Makers, Jewelry Journey, Craftcast with Alison Lee, Craft Industry Alliance, Gem Junkies, Rio Grande: For the Love of Jewelers, Joy Joya Jewelry Marketing Podcast
Sites for resources and inspiration:
Society of North American Goldsmiths has a lot of valuable resources on their website including calls for artwork. You can also view maker profiles of established metalsmiths and jewelers, emerging artists and students.
Google Arts & Culture is an online platform where the public can access high-resolution images of artworks from many museums. By clicking the link, you can view an extensive collection of paintings, photographs and sculpture to feed your creative inspiration needs!
Europeana Collections offers thousands of archives digitized from libraries and museums from all over Europe.
The Public Domain Review is an online journal that focuses on works of art, literature and history and highlights work that enters the public domain. Great for curious and quirky essays,
The Smithsonian Public Access allows you to use thousands of Smithsonian images for free.
NASA has a large library of images, e-books and podcasts. are Sometimes the view from above can help us with our perspective of a situation!
Support in time of need:
Creative Capital has created a list of arts resources that are available to artists whose livelihood is affected by the COVID-19 crisis.
Latest posts by Metalwerx (see all)