We understand that these times are uncertain. It has been a trying few weeks amid the COVID-19 crisis and we want you to know that Metalwerx is here for you in any capacity. We also want to ensure the safety and health of our staff, studiomates, and students.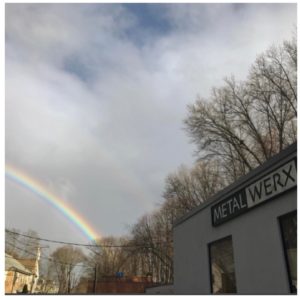 Metalwerx is working hard to define policies and procedures to keep everyone healthy.  The COVID-19 situation is evolving quickly, and we are doing everything we can to ensure your safety and do the right thing for our community. Our director, board of directors, and staff members are closely monitoring the news and following all recommendations set by the board of health.
Metalwerx's current plans are listed below. As the situation changes, we will respond accordingly and keep our community informed.
Winter Weekly Classes: We plan to figure out a time to hold make-up days for students to finish projects when things settle down. Students will receive credit for the time they have missed.
Open Studio Time: There will be no open studio time offered until further notice.
Events: All events through May 25th are canceled. The Making Moves Call for Artwork has been extended to May 1st. The exhibition will now be hosted by Monique Rancourt Artisan Gallery and will be on view June 19th-July 19th. The opening reception for Making Moves will be on June 19th from 5:30-8:30pm. If you have any questions or concerns, please reach out to our Events Manager, Liz Clark at liz@metalwerx.com
Upcoming workshops are being considered on a month to month basis. We have cancelled all our in-person workshops and classes through May 25, and are assessing classes beyond May 25 on a month to month basis.
Spring weekly classes have been canceled for the Spring session. At this point, we have shifted the entire Spring weekly class curriculum to the Fall session. This could change, and we will keep everyone informed of any further delays or changes to the schedule. Your safety is our priority.
Withdrawal Options: We encourage you to stay hopeful with us and in your participation in upcoming courses but we also understand current circumstances may change your ability to join us in the near future. We have outlined options below to consider going forward.
Course Credit: Metalwerx operates primarily on the revenue collected for upcoming / future courses and events. If you would be willing to accept a full tuition course credit for your class, it would enable us to continue administrative operations and pay our staff while in the throes of this pandemic. You can keep / use this credit through the end of 2021.
Refund: It is difficult circumstances like this virus outbreak that can often put a huge financial strain on small arts organizations such as Metalwerx. We understand you may be in a similar situation and can issue a full refund to you upon request.
Donation: We have been fortunate to be asked by members of our community how they can help and support us as we wade through these difficult circumstances. If you are someone who wishes to donate your tuition back to Metalwerx, it would mean the world to us. Your generous contribution would not only allow us to continue paying the people that make Metalwerx work, but would provide us with a little financial security as our organization enters the next chapter of this health predicament. Thank you deeply for your consideration.
We are thinking of you and doing everything we can to maintain operations and a sense of normalcy during this pandemic. We are aware that things may change as this situation evolves. We want to encourage you to reach out to us with any questions you may have and we will be in touch with you if anything changes. Our staff is working from home until our facility is allowed to reopen. Please feel free to call and leave a voicemail at 781-891-3854 or email info@metalwerx.com.
Stay safe and stay positive, we will get through this together!
Metalwerx has always been a place for learning, connection and enrichment. We have a supportive and caring community of artists and learners. Please know that we are here to encourage you and help grow your skills, all at a safe distance during this time. Below are some resources that may offer inspiration, reflection and focus on your practice.
Craft and jewelry related podcasts: Perceived Value, Wellness for Makers, Jewelry Journey, Craftcast with Alison Lee, Craft Industry Alliance, Gem Junkies, Rio Grande: For the Love of Jewelers, Joy Joya Jewelry Marketing Podcast
Sites for resources and inspiration:
Society of North American Goldsmiths has a lot of valuable resources on their website including calls for artwork. You can also view maker profiles of established metalsmiths and jewelers, emerging artists and students.
Google Arts & Culture is an online platform where the public can access high-resolution images of artworks from many museums. By clicking the link, you can view an extensive collection of paintings, photographs and sculpture to feed your creative inspiration needs!
Europeana Collections offers thousands of archives digitized from libraries and museums from all over Europe.
The Public Domain Review is an online journal that focuses on works of art, literature and history and highlights work that enters the public domain. Great for curious and quirky essays,
The Smithsonian Public Access allows you to use thousands of Smithsonian images for free.
NASA has a large library of images, e-books and podcasts. are Sometimes the view from above can help us with our perspective of a situation!
Support in time of need:
Creative Capital has created a list of arts resources that are available to artists whose livelihood is affected by the COVID-19 crisis.
Latest posts by Metalwerx (see all)