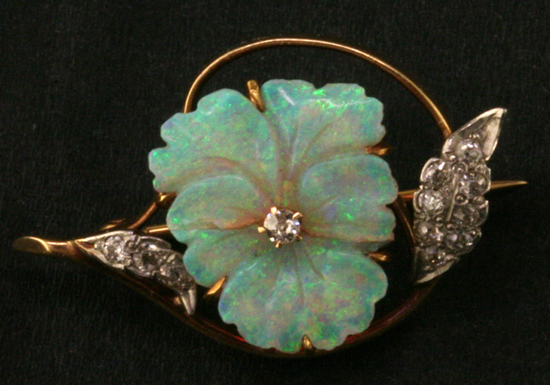 We immediately fell in love with this sweet little opal and diamond pin of gold and platinum that was offered to us as part of an estate. A blend of Late Victorian, Art Nouveau, and Edwardian styling, the construction of fabricated platinum overlaid onto 14K yellow gold indicated the piece was made right around 1900.
When we looked closely, we saw that the crystal opal, beautifully carved as a pansy flower was broken in half, but we purchased it anyway. As avid antique jewelry buffs, we knew we could restore the piece– though damaged, the bright and beautiful opal was all there. Since the piece was in otherwise excellent condition and Art Nouveau pieces are so rare, we decided to repair the opal as best we could, and sell the item with appropriate disclaimer and pricing.
cracks in opal
Look closely and you can even see a small triangular fragment being held in position by the lower prong. In this case, the repair was fairly straight forward. We carefully aligned the opal, then glued the pieces together with an epoxy cement. Gentle tightening of the prongs took a master touch–the key was preserving the glue joint and not creating any more damage to the opal.
After painstaking cleaning and polishing this little treasure, we knew it would be a star in our Vintage Jewelry case. Sure enough, the pin was snapped up within a few days by one of our vintage jewelry collectors.
The Estate Jewelry specialists of Mardon restore vintage pieces for many clients, using the same meticulous craftsmanship you see here. We're always looking for good pieces of vintage jewelry for purchase, whether in good repair or not. Give us a call if you need advice on repairing or selling your Vintage or Estate jewelry.
james l. sweaney cga fga. gg
Latest posts by james l. sweaney cga fga. gg (see all)