As another year at Metalwerx comes to a close, we are once again blown away by the incredibly supportive and creative community that surrounds us at Metalwerx.  It is a feeling that can be hard to explain to anyone outside of these four walls lined with tools and metal dust… perhaps it is just the magic of "catching the jewelry bug", but we think it's something so much more than that.  Once you step over the threshold and into the Metalwerx classroom, you can feel the magic that surrounds you.  It is the amazing feeling of free creativity, growth, support, excitement, determination, and love as strong as family, all wrapped-up in one.  It is the feeling of students, instructors, studiomates, and volunteers; all coming to together to support each other and help one another achieve their artistic goals.  As instructor Kelly Conroy recently said "I walked in the door this morning and felt like I was home", and Studio Manager Therese Martin stated "I am so thankful for everyone here, this past year has been tough, and I truly could not be more thankful for all of the support and love I have received here, you all are like family to me".  So, thank for sharing your time with us at Metalwerx, and for joining the Metalwerx family!
Here's our year-end-summary!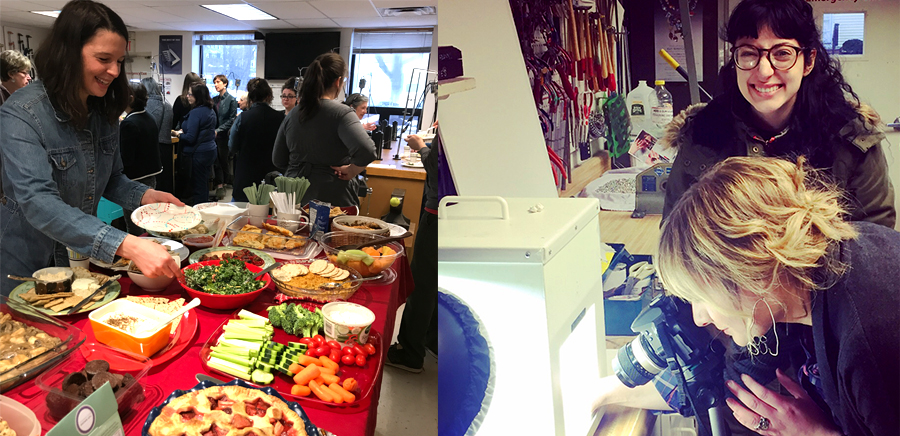 One of the best parts of sharing this community space is seeing what our students create. So this year we started a new event called "Wear and Share" which is centered around just that–wearing and sharing!  "Wear and Share" takes place the last week of every semester, and it brings together students, studiomates, and instructors for a fun night of sharing their work, receiving feedback from peers, free onsite photography of their work, and of course sharing food.  It has been an amazing opportunity for artists to come together to talk about designs, how to work through technical challenges,  ways to move their work forward, and congratulate each other on their semester's worth of achievement!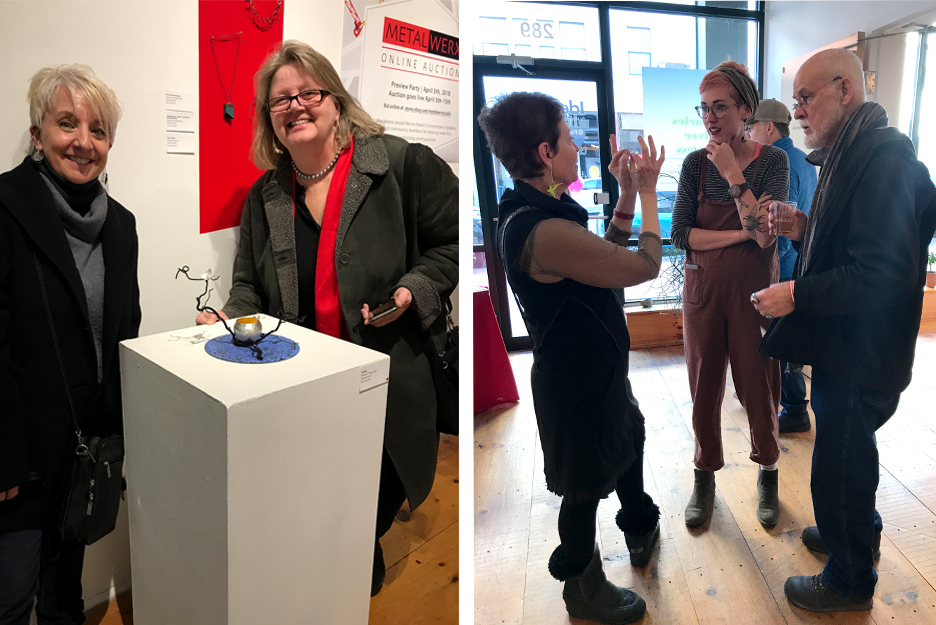 Moving into spring at Metalwerx, it was time for our Annual Metalwerx Online Auction, which raised over $10,000 to support Metalwerx's ongoing programming and events. Many thanks to everyone that donated artwork, stones, books, and more! The Opening Reception at Monique Rancourt Artisan Gallery was bustling with excitement, and red sale dots were everywhere! The night also included a special meet-and-great with famed Bob Ebendorf. What a treat!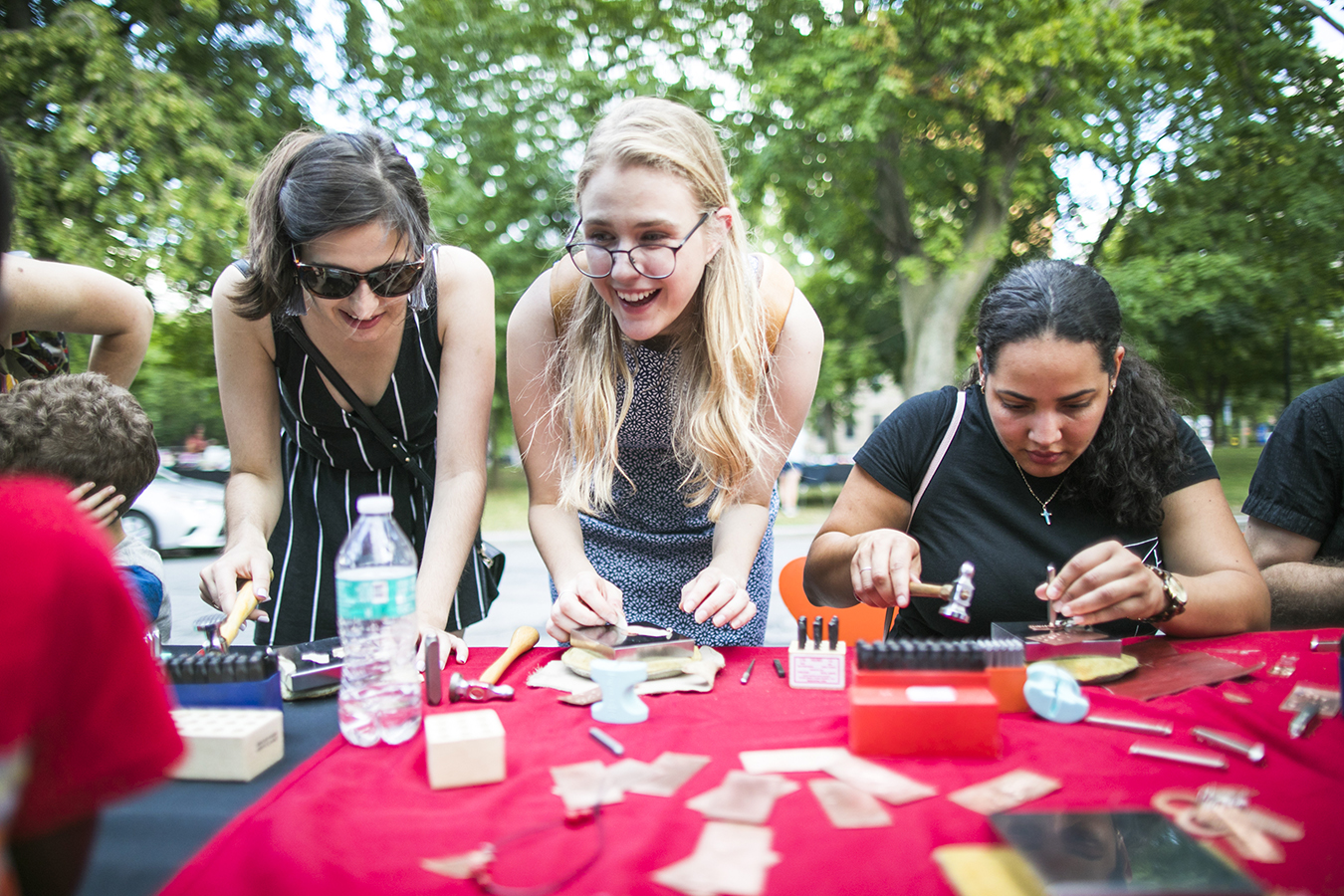 Throughout the year, Metalwerx was active with outreach programs including a stamping and stone carving project at the Isabella Stewart Gardner Museum Block Party, jewelry making with residents at the Windgate Nursing Home in Needham, a stackable ring making with students at the Chapel Hill-Chauncy Hall School, and necklace making with the Teen Missionaries from Elim Evangelical Church in Fitchburg (who we teamed up with last year for our Haitian Wedding Ring Project).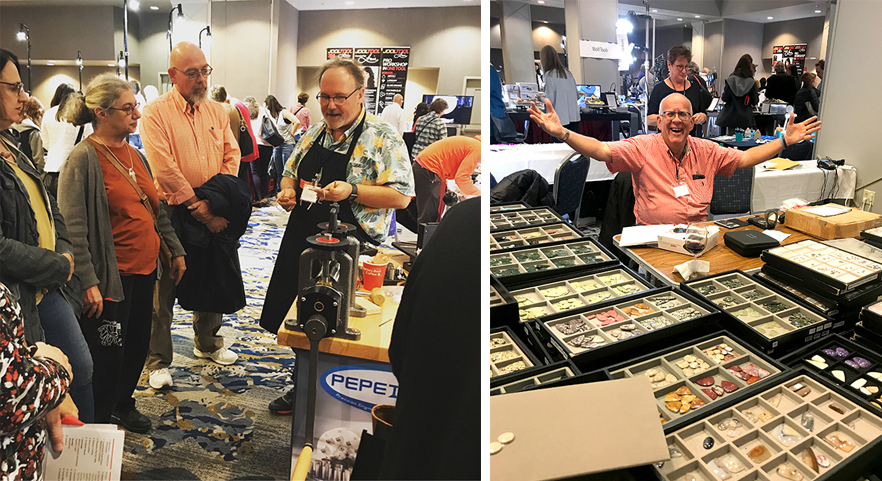 Autumn brought with it the excitement of Metalwerx Marketplace, with the smell of new jewelry books from Charon Kransen, fresh cut gems from Azurz, and the ring of new hammers from Fretz Designs. This year's Marketplace was overflowing with amazing demonstration and lectures in our Educational Series.  Marketplace attendees got to try out massage therapy techniques specifically for metalsmiths with Missy Graff of Wellness for Makers, hear about Tanya Cranes' life influences on her artwork in her "Drift Compatible" Artist Lecture, and so much more! One of our favorite parts about Marketplace this year was the awards ceremony held during Shop and Schmooze–our kick-off event to Marketplace. We were so honored to award Michael Good with the "Pioneer in Metals Award" for his outstanding contribution to metal arts and education, and our "Hidden Gem Award" to the amazing Carol Miller!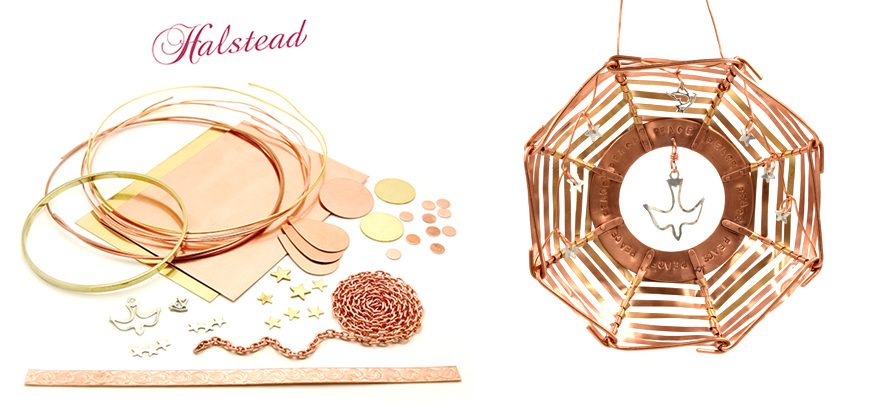 With Marketplace in full swing, we were already working on our Ornamental Peace Project, which asked participants to try to capture a sense of peace in a handmade ornament.  We were so excited to team up with Halstead this year, who supplied the packets of material for participants to use.  The results of this project was gorgeous, all of the submissions were so thoughtful, and beautifully crafted.  These ornaments were on display and for sale at Craft Boston Holiday this year, and helped raise funds for Metalwerx!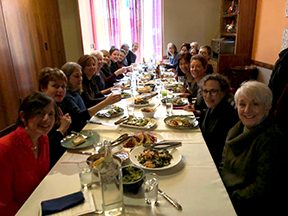 As this year comes to close we are happy to look back on so many great memories and even more excited to be dreaming up the future of Metalwerx with all of you.  We began 2018 with our eyes set on a new Strategic Plan, and we are happy to say we have set in place a 5-year Strategic Plan for Metalwerx, and are well on our way toward implementing our goals. At the forefront of this plan is the growth of Metalwerx; expanding our ability to offer new technologies in metalworking, implementing new programs and outreach initiatives, and creating new programming which will enrich and enlighten your creative practice.  Creating this Strategic Plan would not have been possible without the assistance and insight of our community, and the countless hours spent by our board and focus groups, which tirelessly researched and discussed the plan in detail!  In order to implement this plan we first had evaluate our day-to-day office operations, and discuss ways of streamlining our administrative time. This is why we are so pleased to announce that Metalwerx was awarded a grant from the Foundation for MetroWest , so we can overhaul our CRM, and thus create more time we can use to implement the goals of Metalwerx in 2019!
Cheers to an amazing year at Metalwerx! We are excited to be looking into the future with all of you!
Latest posts by Metalwerx (see all)