So like any new blogger intending to post work online I have dutifully watched and learned from many how to photograph product videos.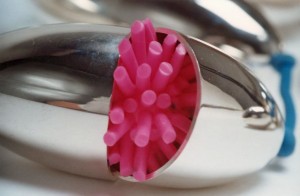 My background as a director is of no help when it comes to camera work. I always worked with technical teams who knew their stuff. All I had to do was be clear about what I wanted. My ideas of what level presentation should be at haven't changed, but it's now me holding the camera. Talk about a steep learning curve!  To make matters worse, I was one of the original studio directors of QVC in London and spent a good many years working to show off jewellery, among other things, to it's best advantage. Working with product also complemented my Guildhall studies. I have to say, it was a welcome relief from working as a news director at that time.
My point is that I'm still in director mode and when it comes to my work. I'm just as picky as I would be on a major shopping network, but without the technical muscle to back it up. This kind of answers the question of why I haven't established that promised Etsy shop yet.  I want it to look right.
Basically, I'm my own worst enemy!