I was sorely tempted to buy a brooch pin but I thought I'd try my hand at making one again.  The last time I did this was at Uni and I only ever made one, ouch!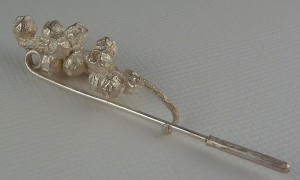 It seemed to me that this casting was just begging to be made into a brooch.  I tried to keep the integrity of the pods and use the extended branch end as part of the piece, hence the hook to catch the pin.

In my first attempt I just attached the pin and put a 90 degree bend in the wire, which worked. A bit delicate though.
On the brooch above I tried my hand at a small spring, which aesthetically works.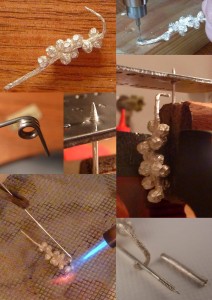 Again, as much as I have twisted, hammered and twisted again, hardening those pins is making me question whether I should have gone with a commercial finding in the first place? Not as much fun to make though.